Thorn Doodles 3 is now available for pre-order!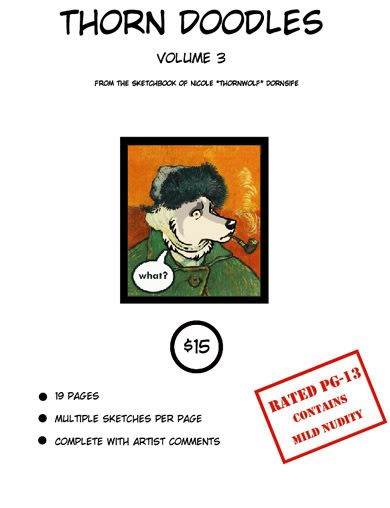 Books are $15 plus $3 for shipping within the US. Outside the US shipping is $5.
If interested please email me at
thornwolf227@gmail.com
, supplies are limited and preordering ensures that you will get one, there's no guaranteeing I'll have any available after FC .
There are
Still some issues of Volume 1 available
, if you buy both 1 and 3 you'll save on shipping =) Volume 2 is sold out.
Also some questions on my part, I'll be selling these at my table at FC but from previous cons I've had people reading but not buying, and generally I'm not too keen on that. One time I taped them closed but people got angry about that, I worry that if I put sample pages out people will still get mad that the example copy is taped closed. Any suggestions on how I can display these without making them able to be opened? I can't allow them to be opened anyways because I got permission to sell these at my table as long as the "offensive material" (read, boobs) would not at any point be seen.
But yeah, email me if interested! Thanks guys =)